Booking widget b24_widget_6569464454a04
Wild Meadow Huts Environmental Policy
Since we purchased our "little piece of Ireland" all 6 acres of meadow 25 years ago we have adopted an organic approach to its management. We have never used any fertiliser on the land and as a result we now have a beautiful wild flower meadow for several weeks every summer which is home to all sorts of biodiversity. It was a bare field 25 years ago, now we have several pockets of well established native Irish trees that have created a habitat for many birds and wildlife.
We wanted wild meadow huts to have as little impact on this environment as possible which is one of the reasons we chose the Shepherds Hut model. The fact that they are built using renewable and sustainable timbre and SIP panels for insulation was a deciding factor in choosing them. Our aim is to run this business in a way that will not adversely affect this environment or add to climate change, with this motivation in mind we have made the following decisions:
They have been painted internally and externally with Teknos paints, a paint that has low VOC, (volatile organic compounds) and lasts longer than other products which reduces the need for early repainting. The company has won Gold in the EcoVadis sustainability ratings for 2022.
Use Electricity generated by 100% wind as our main energy source which we source from Airtricity.
Instal ground mounted Solar Panels to generate our own electricity. Heat the Huts and the water with electricity.
Use induction hobs to minimise waste of electricity.
LED Light bulbs used throughout.
Install Eco shower heads in all showers that use air jet technology and can save up to 70% water usage while still giving the power shower feeling.
Install hippo bags in all cisterns to reduce waste water consumption. Collect rain water from every hut and reuse in the garden.
Use sensors on outdoor lights to minimise usage.
How our guests can help:
Reduce, reuse and Recycle Policy:
We make it easy for our guests to reduce & recycle waste by providing each hut with a selection of bins for the following:
A bin dedicated to compost material, raw food, paper and cardboard which we then add to our compost heap to reuse in our vegetable garden on the flower beds.
Cooked Food waste for the brown bin.
Recycling Bin for all plastics and cans and a glass recycling bin.
We hope that our guests will take the trouble to separate their waste into the appropriate bins thereby reducing the amount that will end up in landfill.
ReUse:
WE will provide each hut with eco friendly hand wash and body and hair wash in reusable bottles that are refillable thereby reducing the amount of small plastic bottle ending up in landfill.
We ask our guests to hang up towels for reuse when possible.
Please turn off all electrical equipment and lights when leaving the hut.
We use Eco friendly, chemical free cleaning products for cleaning and laundry and supply each hut with eco friendly washing up liquid and toilet cleaner. We reuse refillable bottles as containers for the cleaning products.
Our Hot Tub is heated initially with a wood fire using wood from our own trees and then the perfect temperature of 38C is maintained using a low wattage electric heater.
We have purchased A rated energy washing machines.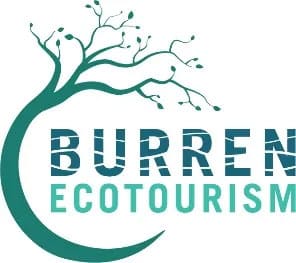 We are members of Burren Ecotourism Network.
B.E.N is a network that is about maximising the positive impacts of tourism and encourages conservation of the biodiverse landscape of Ireland. It promotes tourism that benefits the environment while encouraging its members to achieve sustainable standards in tourism through mentoring, education and signing up to a code of practice that is independently assessed.
Our Aim for the future is to plant more trees, install an EV charging point, increase the amount of Solar Panels on site. Reduce use of plastics.